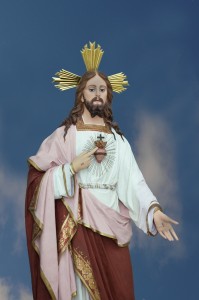 The academic year at the Seminary has just come to an end and it is examination time for the seminarians.  It is a time of intensive studying for all students.  The examinations started on Tuesday 4th June and will end on Thursday 13th June.
On Friday 7th June, the community of the Seminary joined the rest of the world in celebrating the solemnity of the Sacred Heart of Jesus.  This is a special feast for us, primarily because our Seminary bears the name of the Sacred Heart of Jesus.  Moreover, this feast day is a world day of prayer for the sanctity of priests.  On Friday morning, Rector Fr Daniel Xerri led the celebration of the Holy Mass.  All the members of the staff at the Major Seminary were invited to participate in the celebration.  In his homily Fr Daniel said that Jesus is the Good Shepherd, who laid down his life for all the sheep of his flock.  We are invited to accept this infinite love of Christ.  The priest is called to follow the example of Jesus and spread God's love to all mankind.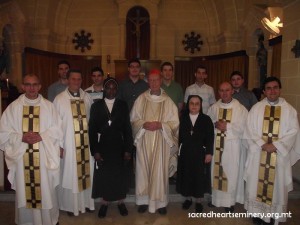 His Eminence, Cardinal Prospero Grech osa was on his first official visit to Gozo as Cardinal.  On Friday afternoon he joined the Gozitan clergy and members of the Religious Communities in prayer at the Parish Church of The Sacred Heart of Jesus in Fontana.  On Saturday morning, feast of the Immaculate Heart of the Blessed Virgin Mary, he visited the Seminary and celebrated the Eucharist with us.  Bishop Mario Grech was also present.  In his homily, His Eminence Cardinal Grech quoted Pope Francis and said that the Rosary is a most effective means by which the priest, in his ministry, remains faithful to and united with God.  He proceeded to explain, line by line, the prayer of the Hail Mary.  Through this prayer we would be beseeching Our Lady to intervene to God on our behalf in every moment of our life and particularly at the hour of our death.  Later Cardinal Grech joined us for breakfast.