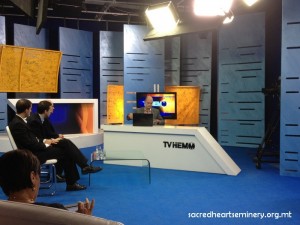 On Thursday 23 May, the community of the Gozo Seminary featured prominently in an evening programme on TVM.  The community willingly accepted this rare opportunity offered by the directors of the programme TvHemm.  All the seminarians, especially those who were directly involved in the programme, will treasure this experience.
Some weeks before the programme was aired, members of the production board of TvHemm spent a day with us at the Seminary.  They took random shots of the moments of a typical day at the Seminary and interviewed the seminarians, among them Deacon Gabriel Gauci who was to be ordained priest on the 25 May.  These shots were aired in a feature during the programme.  One can watch this feature by clicking on http://www.youtube.com/watch?v=FMU1NtMZRM0 and http://www.youtube.com/watch?v=uENq2XZWb6c.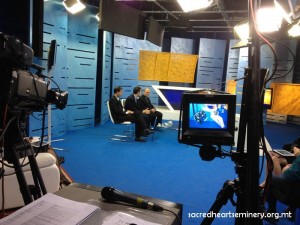 Rector Fr Daniel Xerri, accompanied by four seminarians, crossed over to Malta to participate live in the programme.  They were divided into two panels and the presenter, Mr Norman Vella, asked them questions on various topics.  The seminarians were asked questions related with their vocation, their experiences, the mission of the Church in modern times and the ways in which the challenges in the life of a priest can be faced.  A direct link was established with Canada where Seminarian Massimo Buttigieg is spending his intermediate year.
At the end of the programme, the Rector thanked the directors for the opportunity offered to the Gozo Seminary to present itself to the public.  He stressed the fact that the call for priesthood, originating from God, is a gift and the acceptance of such a gift from God is surely gratifying.