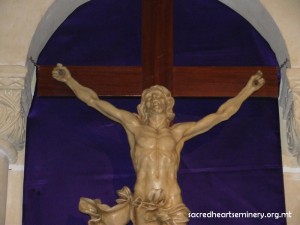 On Friday 22nd March, the Church commemorated the feast of Our Lady of Sorrows.  In the afternoon the seminarians left the Seminary to visit their parish where they celebrated this feast with their community.
On Palm Sunday, 24th March, after serving at the Cathedral in the morning, the seminarians met at Dar Stella Maris at Żebbug for a spiritual retreat, led by Fr Martin Micallef OFM Cap.  Fr Micallef urged the seminarians to let this retreat be an opportunity to embrace Divine Mercy and consequently be a moment of conversion.  The spiritual retreat ended on Wednesday 27th March, after the midday lunch.
The seminarians could then join their families for a fifteen-day holiday.  During the liturgical celebrations of the Pascal Triduum, the seminarians served at the Cathedral.  They will return to the Seminary on Monday, 8th April.