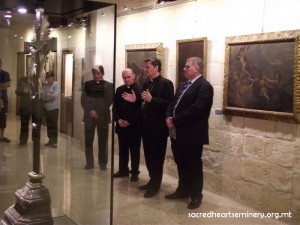 On Thursday 9th May, Bishop Mario Grech and the Hon. Anton Refalo, Minister for Gozo, joined the community of the Seminary for the inauguration of the exhibition Redemptione, on the occasion of the Year of Faith.  This exhibition has been launched by the Diocesan Commission for Works of Sacred Art in collaboration with the Seminary of the Sacred Heart of Jesus.  The first part of this exhibition, Incarnatione, was held at Christmas time.  From the title of both exhibitions, one can deduce that the first one presented the mystery of the Incarnation while the second presents the mystery of the death and resurrection of Our Lord.  The exhibition hosts various works of sacred art.  In the inauguration speech, Fr Joseph Calleja, from the Diocesan Commission for Works of Sacred Art, explained that these works of art have been brought to the exhibition from various churches in Gozo and also from private collections.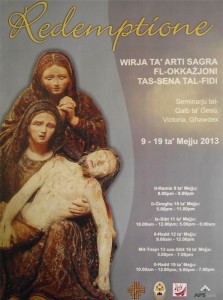 Fr Daniel Xerri, Rector of the Seminary, expressed his appreciation of the fact that for the umpteenth time the Seminary Hall had been chosen to host such an exhibition of precious works of sacred art.  The Hon. Anton Refalo, Minister for Gozo, talked about the close link between faith and culture.  He said that the Catholic Religion has always played an invaluable role in the culture of Malta and Gozo.  He expressed his wish of seeing more Gozitan young people being trained in Arts.  Bishop Mario Grech welcomed the link drawn by the Minister of Gozo between faith and culture and he explained that through culture, the individual can grow in faith and in his experience of God.
The exhibition will remain open up to Sunday 19th May.
Images