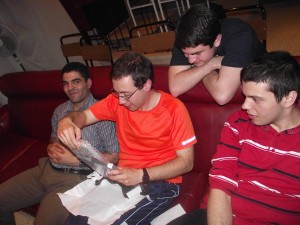 Every beginning has an end.  The year of formation 2012-2013 is nearing its end.  On Monday 13th May, Deacon Gabriel sat for his final written examinations.  He sat for his orals on Thursday 16th May, thus bringing to an end his seven years of formation at the Major Seminary of The Sacred Heart of Jesus.  The next step is his ordination to the priesthood on Saturday 26th May at 6.00pm at the Gozo Cathedral.
For the rest of the community, the academic year is nearing its end too.  On Wednesday 15th May the seminarians presented their assignments to the Prefect of Studies.  Mgr Saviour Grima published the time-table for the annual examination.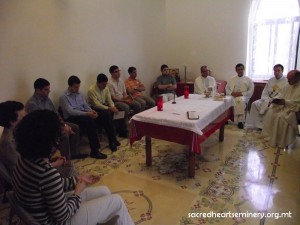 That same Wednesday, in the evening, the community gathered at Dar Ġużeppa Debono in Għajnsielem for a Mass that brings to an end the meetings of the ministries.  At different moments during the Mass, the seminarians offered a prayer to God.  Each seminarian shared with his companions the salient moments of his experiences of this year.
During these days of the Holy Spirit Novena, the community is joining the rest of the Church in prayer to the Holy Spirit to descend on and dwell in each and every one of us.  The prayer is addressed in a special way to the candidates for Confirmation and to the ordinands who are to be ordained in the following weeks.
Images