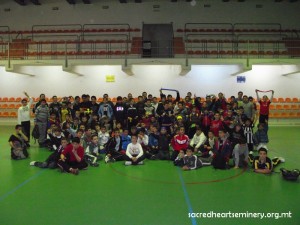 For the second consecutive year the seminarians organised a sports day for altar boys and for members of the Groups for the Promotion of Vocations.  This activity was held on Tuesday 19th March, feast of St Joseph.
A number of children and youths met at 9.00am at the Seminary.  The activity started with a short prayer meeting led by Fr Joseph Curmi.  The participants were then grouped into four teams and then took part in the various games organised for them.  At noon the participants stopped for a snack.  The activity ended at 2.00pm with a tug-of-war.
All the participants received a memento, prepared by the seminarians.  During this activity the altar boys met the seminarians in a different environment from the one in which they usually meet. They also had the opportunity of teaming up with altar boys from other parishes.
Images