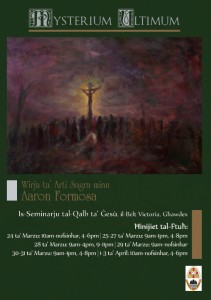 The Sacred Heart of Jesus Major Seminary, with the collaboration of the Aħwa Ħbieb tas-Seminarju, has again hosted a collection of sacred art in the hall of the same Seminary.  This exhibition is usually put up by a local artist: this year it was the turn of Aaron Formosa.
Aaron Formosa was born in 1980 at Victoria, Gozo.   He read for Master of Arts in Philosophy at the University of Malta.  Basically he is a self-taught artist and his works form part of various collections both in Malta and abroad.  Mr Formosa took part in many art exhibitions, but Mysterium Ultimum is the first art exhibition put up by Mr Formosa on his own.
The exhibition was inaugurated by Mgr Bishop Mario Grech, on Saturday 23rd March 2013.  Fr Daniel Xerri, Rector of the Seminary, gave a welcoming talk.  He said that in his collection, Aaron Formosa succeeded in exploring well the greatness of the mystery of Easter.  He explained that the exhibition took its name from the reflections of the Catholic Theologian, Karl Rahner, who called the Easter Mystery: Mysterium Ultimum, the fundamental mystery.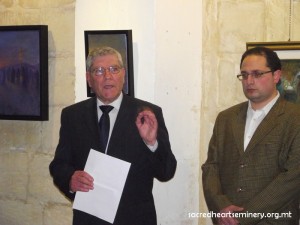 Following the introductory speech by the Rector, the artist himself explained the message that he wanted his works of art to evoke, especially the works of art presented in the exhibition.  Then Mr Joe Camilleri was invited to give an appreciation of the exhibited works of art.  In his concluding speech, Mgr Bishop Grech stated that art can be an effective means for a new type of evangelisation.  He augured that these opportunities that are being offered by the Seminary will be a means by which man can continue to feel closer to God.  After his speech, Mgr Bishop Grech declared the exhibition open.  The exhibition was open to the public till Wednesday, 3rd April.
Images