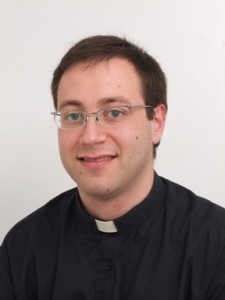 On Saturday 25th May, feast of The Holy Trinity, Bishop Mario Grech led the ordination of Deacon Gabriel Gauci to the Priesthood, who hails from the parish of Our Lady of Succour and of St Gregory the Great in Kerċem.  The ordination ceremony took place at the Cathedral of the Assumption, in Victoria.
A number of priests, members of the community of the Seminary, members of the parochial communities of Ta' Kerċem and of Għajnsielem and various other people accompanied Gabriel in this very important moment of his life.  Many others followed the ceremony on Radju Marija.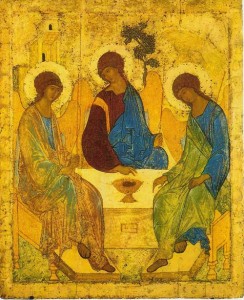 Bishop Grech started his homily by drawing a contrast between the icon of The Holy Trinity of the Russian iconographer Andrey Rublyov (1411) and the same icon of the Russian artist Marc Zaharovich Chagall (1956).  In the first icon, the Holy Trinity is presented on a golden background and facing the viewer while in the second it is on a red background giving its back to us.  Bishop Grech said that modern man is no longer aware of the real identity of God.  In Rublyov, the golden background represents the unity and the perfect relationship among the Father, the Son and The Holy Spirit.  Our God is Love: He is perfect Love.  God wants to light our world through this love relationship.  In fact, in the Gospel, Jesus invites us to try to love in the way He loved us.  Bishop Grech said that our world is fragmented and built on division.  This is not in conformity with the unity that exists in God.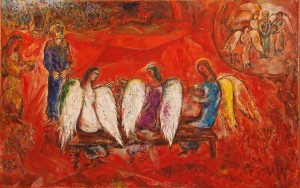 In Chagall, red represents this fragmentation.  Contemporary man does not know who is God, that's why God's face is not depicted.  The newly ordained priest together with the other priests, are called to sew together the fragmented parts.  Bishop Grech explained that, with his words and particularly by his example, the priest is called to use golden thread to sew together the fragmented humanity.  This is the thread that represents God's love.  In other words, the priest is called to be the one who conveys God's love to the heart of every human being.  It is only in this way that modern man can rediscover the real identity of God.  It is only in this way that our world can be a world that reflects the unity of love that exists in God Himself.