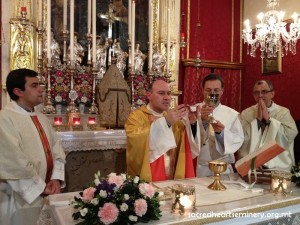 The Solemnity of the Annunciation was celebrated on Monday, 8th April 2013, after being transferred from Monday, 25th March, which fell during the Holy Week.  On that day the seminarians returned to the Seminary following the Easter Holidays.  They were about to start the remaining weeks of formation for present scholastic year.  On the occasion of this feast, the community joined the many pilgrims who visited the Chapel of the Annunciation, at Rabat, and celebrated the Eucharist.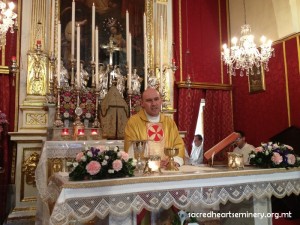 Fr Daniel Xerri, Rector of the Seminary, led the celebration.  He based his homily on the Responsorial Psalm: "Here I am, o Lord, I am coming to do your will".  It is this answer which we put to action in our everyday life and which fills our heart with happiness and peace.  This is what Jesus did throughout his life, especially in the Garden of Gethsemane.  Jesus passed through Calvary in serenity since He accepted with a strong conviction the will of the Father and He was committed to follow this will to the very end.  Our Lady acted in the same way.  She too accepted willingly the great mission that God announced to her through the angel Gabriel.  The Rector reminded the congregation that these personalities should be a model to all of us.  We too should try to follow God's will thoroughly in our life.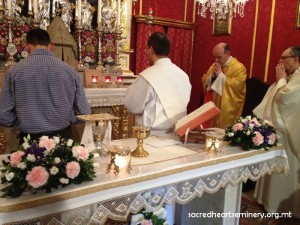 At the end of the Prayers of the Faithful, the Rector called Deacon Gabriel Gauci to present his request for his ordination to the priesthood and Seminarian Daniel Sultana to present his request for his ordination as deacon.  The congregation joined them in silent prayers.
Images