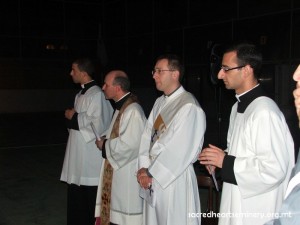 The end of the academic year brings with it moments of joy to the community of the Seminary, to the Diocese and to the Church as a whole.  These moments of joy are primarily the ordination to the priesthood and the diaconate ordination.
This year, Gabriel Gauci from the Parish of Our Lady of Succour and of St Gregory the Great of Kerċem was ordained priest on Saturday 25 May.  Daniel Sultana from the Parish of Maria Bambina of Xagħra is to be ordained deacon on Saturday 22 June.  As preparation for these special moments, the Church in Gozo was invited to join the ordinands in moments of prayers on Friday 24 May.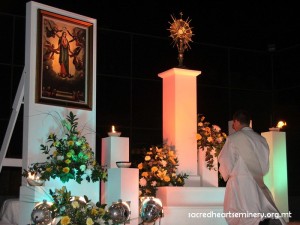 This evening of prayer, aired live on Radju Marija, was divided into three sections.  The evening started with a prayer to Our Lady Help of Christians, whose feast was being celebrated that day.  Then there was the reading from the Scriptures, followed by a homily by the Rector of the Seminary.  At the end of the homily, the congregation was invited to join in moments of adoration of the Holy Eucharist.  Then, Gabriel prayed Our Lord to accompany him in the new mission which was being entrusted to him through priesthood.  Daniel thanked God for the gifts that He endowed him with, especially the gift of the priestly vocation.  Prior to the Sacramental Blessing, the congregation was invited to proclaim its faith on the occasion of the Year of Faith.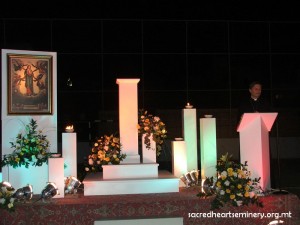 The Holy Eucharist was then accompanied to the Chapel where the faithful could proceed with the adoration of the Holy Host throughout the night. Bishop Mario Grech delivered his message at the end of the evening of prayer.  He said that that day was a feast day of faith.  Every vocation is primarily a declaration of faith.  Pope Francis says that a Church without faith is not a Church, but merely an NGO.  Bishop Grech said that our society still abounds in faith.  The respect of the faithful to the priest and their trust in him are evidence of this fact.   Because of faith, the way the faithful correlate to the priest-to-be before his ordination changes when he is ordained.  "Today the faithful regard Gabriel in a certain way and tomorrow, following his ordination, they will approach Gabriel and ask him to offer the Eucharist for their needs, to administer the sacraments to them, and above all, to intercede for them."  This is a confirmation of the fact that Malta and Gozo still believe and trust in God.  Bishop Grech ended his message by urging the congregation to ponder upon and to mature in faith.