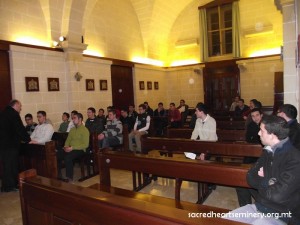 Throughout the year, various activities are organised for members of Groups for the Promotion of Vocations and for altar boys.  During Lent, such activities were held in the diocese for members of these groups.  On Tuesday, 5th March, the Seminary hosted a number of Form 5 students who joined us during prayer time and leisure activities and at supper.
Between Sunday and Friday, 3rd – 8th March, prayers for vocations were held at the parish of Qala.  The climax of the week was reached on two occasions: the first was on Thursday when two seminarians led the Adoration of the Holy Eucharist, and the second on Friday, when children who attend religious centres met at the parish church where Mass was celebrated.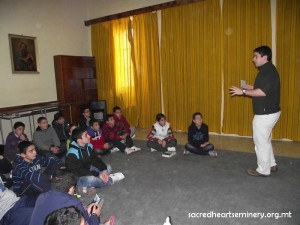 Every week, our parishes host meetings for students who form part of Groups for the Promotion of Vocations.  These students are in forms 1 to 4 of Secondary Schools.  On Saturday 16th March, the students joined the seminarians for a meeting at the Seminary.  At the end of the meeting the students played football.
Images