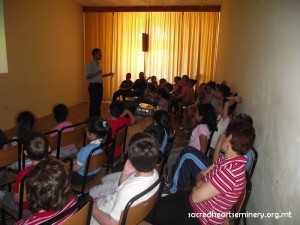 From Sunday 5th May to Friday 10th May, the community of the Seminary organised a week of prayer for vocations at the parish of Saint Lawrence.  This was the last week of prayer for this year of formation.  The first week of prayer was held in November at the parish of The Visitation in Għarb and the second one was held in March at the parish of Saint Joseph and the Immaculate Conception in Qala.
Prayers for vocations were said daily during Mass.  On Thursday 9thMay two seminarians gave talks to children who attend religious lessons at the parochial centre.  They reflected on God's call to each and every one of us, focusing mainly on their own vocation and experiences.  In the afternoon of the same day, two other seminarians, together with Deacon Gabriel, joined the parochial community in an hour of prayer for vocations.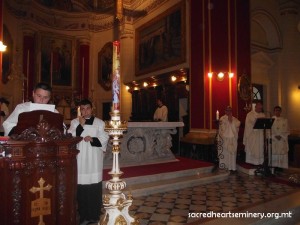 On Friday 10th May, the community of the Seminary and the formators celebrated the evening Mass at the parochial church.  During the homily, the Rector said that often, the priest has nobody to share the burden of his mission with him and he can easily be disheartened.  However, Jesus has promised to be with us till the end of time.  The Rector urged the people of God to include the priests in their prayers so that the priests will never forget that they are in the service of the Lord.  In this way, the priests will never ignore the presence of God in their life.
Images